About Us
Expanding areas for orthopedics
Orthopaedics has recently expanded the areas to cope with due to the aging society, popularization of sports, and advancement in fields associated with orthopaedics such as rehabilitation and public welfare. Moreover, orthopedics plays a greater role in meeting patient satisfaction, as cultural advancement requires higher quality of life. The prevalence of osteoporosis, and the incidence of hip fractures and vertebral compression fractures are actually increasing. These diseases are becoming impending social problems. Surgical treatment especially for hip fractures is unavoidable. However, as urgent problems we should try to develop new treatment for facilitating to heal bone fractures ant to increase bone density, applying knowledge derived in basic research of bone metabolism; the introduction of genes, and the administration of cytokines and growth factors. Refractory diseases such as rheumatoid arthritis, musculoskeletal tumor, and systemic bone diseases need new treatment in which cytokines and genes are utilized. Previously, orthopaedic surgeons tried to restore normal function of patients as much as possible after injury or illness, but, at present, recovering higher level function is required in the orthopaedic treatment especially for ligament reconstruction in the elbow or knee in professional baseball players. Thus, orthopaedics plays an important role in current social needs by expanding its coverage area. The demand for orthopaedic surgeons and their services will continue to rise in the future.
Many affiliated hospitals and associate doctors
The department of orthopaedic surgery in Osaka University started in 1945 with over 70 years history, including about 70 associate doctors and about 70 affiliated hospitals. Our first mission is to produce good orthopaedic doctors, leading to not only improving the quality of local medical services but also disseminating our research contributions to the world. Our department provides comprehensive clinical care for patients, professional education for physicians, and cutting-edge research. These activities are conducted by more than 60 members who consist of faculty members, residents and postgraduate students. Our specialty outpatient clinic covers wide areas; hip joint, arthritis, spine and deformity, sports and knee joint, shoulder joint, tumor, pediatric orthopaedics, and hand surgery. Each specialty clinic provides sophisticated medical services.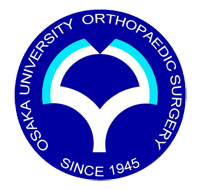 Highly advanced medical care
Our research groups conduct world-class level basic research in various fields; bone regeneration, cartilage regeneration, musculoskeletal tumor, rheumatoid arthritis, 3D kinematic analysis, and computer-assisted surgery. In addition, we conduct clinical trials as highly advanced medical projects in Medical Center for Translational Research Osaka University Hospital. These trials include bone regeneration treatment using artificial bone transplantation with bone marrow stem cell, and regenerating treatment of articular cartilage and meniscus using cultured synovial cells. Other clinical research projects were the development of artificial joints, kinematic analysis of joints, development of arthroscopic surgery, novel treatment for rheumatoid arthritis and new treatment of musculoskeletal tumors. We are offering high level orthopaedic care and treatment which meet current and future needs.
Orthopaedic Oncology
Professor Hideki Yoshikawa